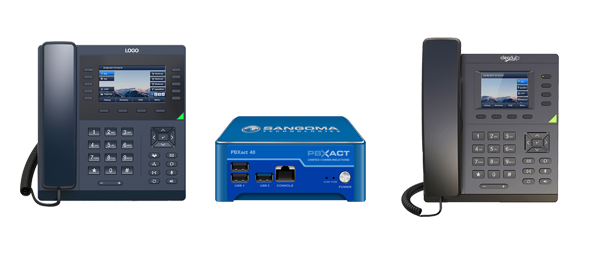 Our On-Premise PBX is a 10-phone FreePBX-based phone system hosted on your site and designed to meet the needs of your office environment.
The On-Premises PBX Package Includes:
1 x PBXact 40 server
1 x 270 receptionist phones
9x 230 users phone
This is our base On-Premises PBX solution – all PBX systems are 100% customisable for your businesses personal requirements.  Do you require more or fewer phones? Different phones?   Email us If you would like to discuss with one of our voice engineers, and we'll guide to towards the best possible PBX solution for your needs!
Ideal for Small Office Deployments
Management Ports: 1x Serial
Console (RJ45) & 3x USB
Network Ports: 4x GB Ethernet &
1x VGA

120GB SSD drive

Quad-Core Processor

2 GB of Memory
The Clearly IP CIP 270 is an ideal receptionist phone, 16 SIP line IP phone designed to work flawlessly with PBXact systems. The CIP270 is the most robust of Clearly IP's CIP phones. It features a 4.3-inch colour LCD, 10 customisable buttons, 36 paperless softkeys,  Optional expansion module, 10/100/1000 Network port, 5 way conferencing
The Clearly IP CIP 230 is an entry-level, 4 SIP line IP phone designed to work flawlessly with PBXact systems. The CIP230 is Clearly IP's most economical model, offering a reduced footprint for small business areas. it features a full-colour display, 4 customisable buttons, 10/100/1000 Network port, 5 way conferencing
On-Premises PBX – £2,500.00
1 PBX Server | 10 phones
Hardware Included
PBXact 40 PBX Server
1 Receptionist Phone
9 standard user phones
SysAdmin Pro
1 year manufactures warranty
Included Services
Design Consultation
Pre-built and Tested Server
All Phones Configured & Tested
Installation and Testing
Number Porting Assistance
Documentation for Phones and Features
Features
Support 40 extensions
30 simultaneous Calls
SysAdmin Pro
Voicemail Notify
Unlimited auto-attendant / IVR
Hunt / Ring groups